Plenty of good reasons to visit this charming South Park bar
San Diego City Beat article and photo by Jen Van Tieghem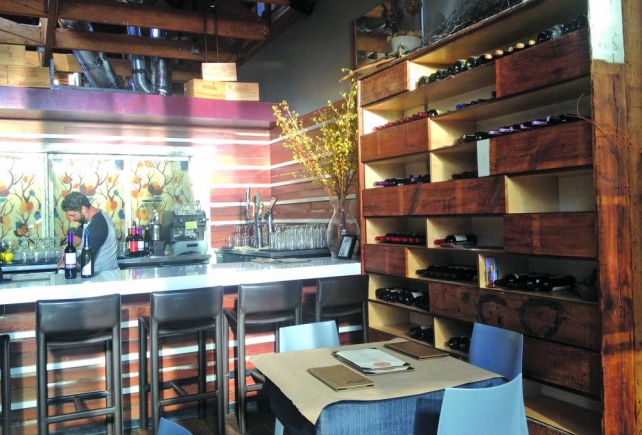 As if I needed another reason to want to break my lease and move to South Park, The Rose Wine Pub (2219 30th St.) has given me seven—as in, I'd probably spend every day of the week there if I lived nearby. It's easy to spot the building that houses it, with its blush (dare I say rose-colored?) façade bearing the name "Rose Grocery Building." Inside, Rose offers a diverse wine collection and an adorable ambiance that invites you to settle right in.
The charming interior is dominated by reclaimed wood throughout but balanced by soft, antique-style furniture and a large, white bar top. Accents of branches and bird decorations tie together a theme celebrating nature without cluttering the space. 
A group of friends and I decided to stake our claim at the bar to take advantage of our after-work festivities sooner rather than later. The menu we dove into boasted small-production wines from many of the world's most well-known wine regions. In addition to these, the friendly bar staff offered us some happy-hour selections. A couple of white wines and several reds were only $5 a glass, and the pour size looked like a healthy serving for that price. Even the regular glass prices were reasonable at $8 to $15 for unique wines from near and far. 
I started with a happy-hour Zardetto Prosecco—the crisp style of the sparking wine made it a great pre-meal teaser for the taste buds with just a faint sweetness. A friend kindly offered a sip of her Tempranillo, the 2011 "Tintico" from Castillo de Monjardin, which she categorized as "green" in flavor. Its herbaceous and earthy notes also made it a great intro to the menu. 
The Malbec I enjoyed next was an interesting fruit-forward version that had a nice acidity to it. The berry and plum flavors matched well with the tang of the artichoke flatbread that I was tearing into (also discounted during happy hour). The bartender noted that the brand of wine I was drinking, Masi, is known for its Italian varietals and is one the bar regularly keeps on hand. The Malbec, he went on to explain, was unique in being an Argentinian wine from the same producer. I agreed that the resulting style was somewhat more like an Italian wine, in an appealing way, with robust flavors and a smooth finish. 
Between chatter with the laid-back bartenders, about everything from tattoo shops in the neighborhood to the great wines we were having, I could easily see this becoming a regular spot for and my fellow wine vixens and me—the type of place you feel comfortable no matter your wine IQ. And with a regularly changing wine list and eclectic food menu, they gave even more reasons for return visits. 
Like the layers and nuances of one of its delectable wines or the diverse characteristics of its neighborhood, The Rose Wine Pub offers a triple threat of ambiance, knowledgeable staff and a stellar wine list.
Write to [email protected]
and [email protected].
Follow her on Twitter at @Jen_VT.
Address:
  2219 30
th
 Street, San Diego CA 92104
Phone:
  619-280-1815
Web:  
http://www.therosewinepub.com