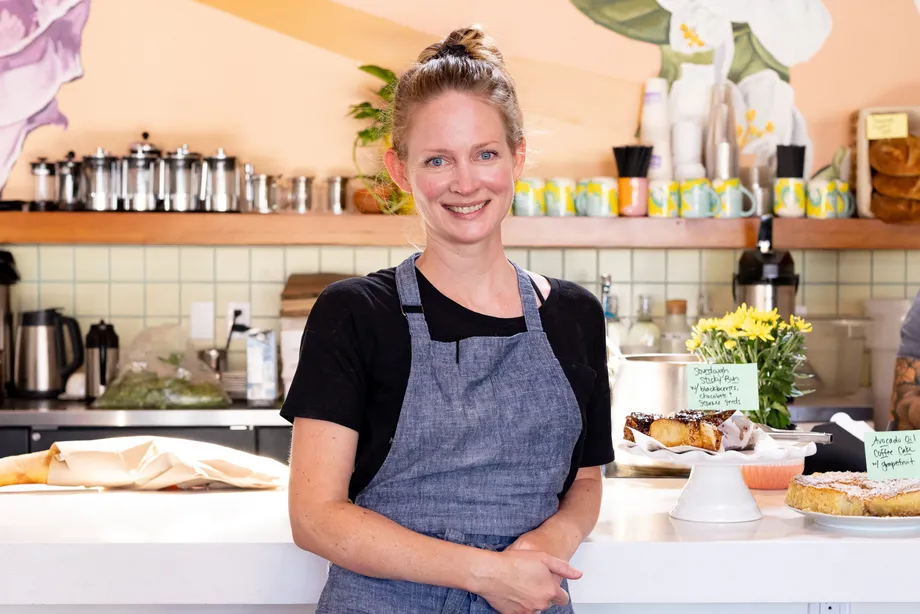 Heading up the baking program at Secret Sister, The Rose's adjacent Sourdough Bakery and Teahouse, is Neale Holaday, a pro pastry chef who's worked at fine dining restaurants on both coasts. Before moving to San Diego from New York City, Holaday was in charge of pastry at the Michelin-starred Betony and at Marlow & Sons and Diner, two acclaimed spots in Williamsburg.
Holaday always has a seasonal fruit pie, available whole or by the slice, a seasonal take on sticky buns, and a quiche whose fillings will change daily. Other staples include citrus meringue pie, dark chocolate pie, homemade ice cream, scones, cookies, coffee cake, and savory gougeres. Most of the baked goods, as well as the baguette, country loaf, and brioche buns, are based on sourdough made with a 150-year-old sourdough starter passed down from a local family.
Secret Sister's menu also offers sandwiches and laminated viennoiseries.
Though there's drip coffee and chicory coffee, the emphasis here is more on organic teas, sourced from Samovar Tea out of San Francisco, with drinks ranging from matcha on nitro to Hong Kong milk tea, spiced chai, and variety of loose leaf teas.
Address: 2215 30th Street, San Diego CA 92104
Phone: 619-281-0718
Web: https://www.secretsistersouthpark.com
Hours:
Wednesday – Sunday: 8:00am – 3:00pm