2011 Torrontes CUYUM  MAPU, Mendoza, from our favorite local South Park importer, Our World, Our Community. 
This Torrontes from Argentina will leave you feeling refreshed during this hot weather!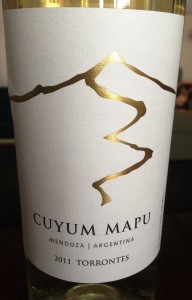 Harvest and Production Notes: Three generations of winemakers!!!  100% Torrontes grapes solely from Quattrocchi's family vineyard. Harvest occurred in February 2012. It was a manual harvest without leaves. The fermentation with selected yeasts lasted 15-20 days. It has been aged 5-6 months in American Oak barrels. Total production 4,000 cases. Alcohol by volume: 13.5%  Residual sugar: 1.77 g/L  pH: 3.70  Total acidity: 4.50 g/L
Tasting Notes: The color is yellow to gold. Aromas are a mix of grapefruit, apricot and floral. Slight vanilla notes detectable from short time in oak. Palate has ripe fruits of peach, apricot and lychee nut. Gold Award at 2012 San Diego International Wine Competition
Food Pairing: We recommend pairing this Torrontes with our Jerk Chicken or Pork and Peach Flat Bread
Come on in and try a glass!
Address:
  2219 30
th
 Street, San Diego CA 92104
Phone:
  619-280-1815
Web:  
http://www.therosewinepub.com
Hours:
Sun – Thu: 4:30 – 10pm Fri – Sat: 4:30 – 11pm Kitchen closes one hour before closing