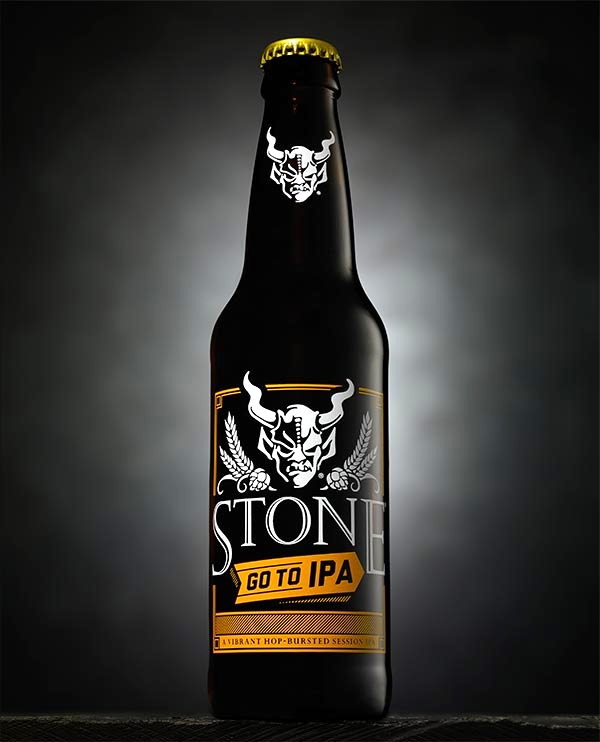 Intensely hopped and big-flavor brews are known to be quite the passion for Stone Brewing Co. Taking another step in their lupulin obsession, the craft beer company is pleased to introduce Stone Go To IPA. This vibrant hop-bursted session IPA is the tenth addition to Stone's year-round lineup.  Fans will be able to find the new release in 12-ounce bottle six-packs and on draft for pours and growler fills at  Stone Company Store South Park.
Stone Go To IPA is 4.5 percent alcohol by volume (ABV) and, therefore, considered a "session" beer. Session beers are defined as ales or lagers below five percent ABV, which allows for greater drinkability within a reasonable stretch of time. Stone Go To IPA is a very refreshing beer, loaded with intense peach, citrus and melon aromas and all the complex hop flavor that Stone IPAs are known for…meaning, it's a hop bomb.
To achieve these glorious hop qualities and still maintain a low ABV, a technique called "hop bursting" was implemented. This contemporary approach involves infusion of a massive amount of hops during the final phase of the brewing process to coax out the robust flavors and aromas of the hops. Stone Go To IPA achieved its fruity, citrus notes by dry-hopping with mostly Mosaic and Citra, plus a complimentary addition of Cascade hops.
Stone Go To IPA is brewed with nine different hop varietals and meant to be consumed fresh or within 90 days, before the bountiful hop characteristics fade. The session IPA will be available all year long, so IPA enthusiasts and curious craft beer novices alike will be able to satisfy their appetite for the almighty hop with this everyday go-to ale.
Cheers!
Address:
  2215 30
th
 Street, San Diego CA 9210
Phone:
  619-501-3342
Web:  
http://www.stonebrewing.com
Store Hours

Mon – Thu:  4 – 9pm
Fri – Sat:  11am – 10pm
Sun:  11am – 8pm