PROGRESS is proud to carry DISRUPTUS,  Creative Child Magazine's 2013 GAME OF THE YEAR!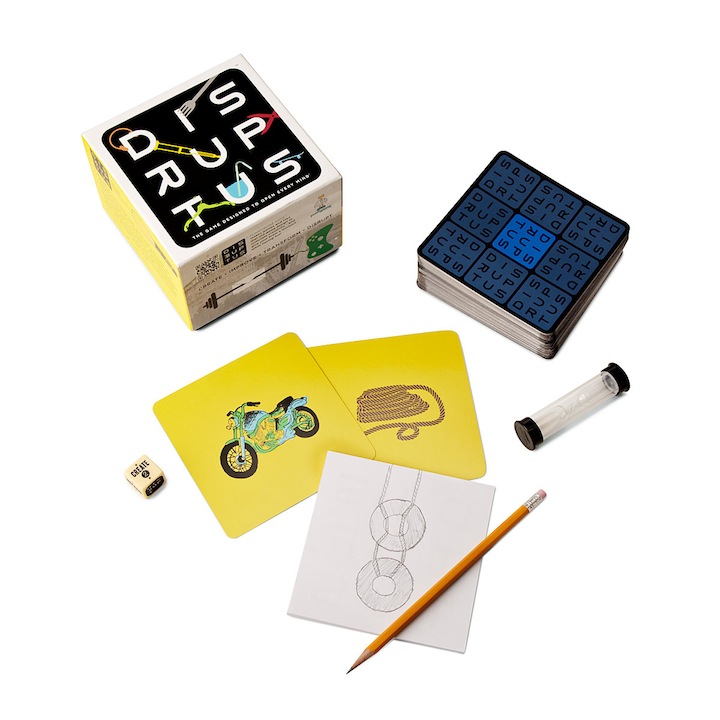 DISRUPTUS challenges players to think of new ways to use familiar objects or devices. During the game you'll roll the die, choose the appropriate card or cards, then take one of four actions: Create2, Improve, Transform or Disrupt. With "Transform", for example, players reveal the top card of the deck, then take one minute to think of ways to "transform" and repurpose that object. If the card depicts, say, a high-heeled shoe, you might imagine nailing that shoe to a door so that people can use the heel of the shoe as a door knocker. If the judge likes your answer the best, you win the round.
For "Create2", players look at two cards, then take elements from each card to create something new, such as combining the two wheels of a motorcycle with a rope to create a double-decker tire swing. 
A great game for kids, adults, families, or as a tool for disruptive thinking in business or product development!
Address:
  2225 30
th
 St., San Diego CA 92104
Phone:
  619-280-5501
Email:  
[email protected]
Web:  
http://www.progresssouthpark.com
Store Hours:
Mon – Thu:  10am – 7pm Fri – Sat:  10am – 8pm Sun:  12– 5pm