LOVE is in the air at Home ec studio, and it smells MARBLE-ous.
Our after school gaggle did a great job marbeling fabric in January and came up with some beautifully designed infinity scarfs and pillows.  We Love our students and believe they are "True artists" in every way.  Their marbeling designs turned out beautiful. We are so proud of them.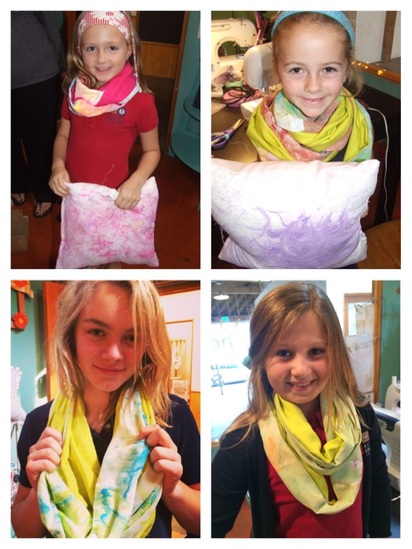 Also, in February we are sharing the love of sewing… like we always do.  In fact, If you check our website class list you will notice we have a large listing of our upcoming basic machine anatomy 101 classes.  These classes are for the absolute beginner and are available every month.  You learn the basics of your machine (or ours) and complete a small project.  All materials are included.  These classes make great gifts for your sweetheart and for yourself!  We still have a few spots open in February here.
We are in the studio every Monday afternoon 1-3:30 and Friday 3-6 teaching our afterschool classes and we are even in the studio on some weekends…  Please check our class schedule and feel free to stop by say hi and browse our retail boutique.
Dont forget… to Love yourself (this month and always) and love what you do… hopefully it involves sewing.
XOXOXO
We do!!!
Roselle & Yvonne,