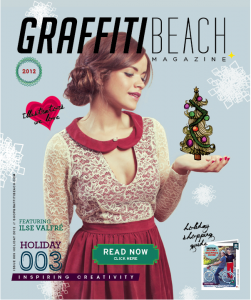 In honor of the holiday season and the release of Graffiti Beach's online magazine, Graffiti Beach will be hosting a fashion show on December 8th, 2012.  Doors open at 7pm with the show beginning at 8pm. Entrance to this event is free with RSVP (shopgraffitibeach.com > events) and complimentary beverages and snacks will be provided. On the runway you will preview Graffiti Beach's most coveted indie brands for the holidays including: 1OAKbySara, Continuous, JammyPack, 8000 Nerves, Chime Designs, Beatrice Holiday, Paper Bird Creations and Mukee.
To RSVP for the event please visit http://shopgraffitibeach.com > Events
What: Fashion Show and Magazine Release Party
When: December 8th 2012, 7pm-10pm
Where: Graffiti Beach Store, 2220 Fern St., San Diego CA 92104
ABOUT GRAFFITI BEACH MAGAZINE: Graffiti Beach's online magazine launched this past spring, with the goal of telling the stories behind the emerging artists that Graffiti Beach believes to be on the cutting edge of the creative industry. This Holiday issue will be its 3rd edition and the magazine will highlight remarkable illustrators, and showcase up-and-coming brands in a Holiday Gift Guide. Come join Graffiti Beach for a festive night full of music, fashion and art!

Store Location: 2220 Fern St., San Diego CA 92104  //  Website: http://shopgraffitibeach.com